Jesus, Mary and Joseph thank God that is OVER!
Under normal, sane
circumstances, I am not a holiday lover.  I don't join "Amateur Architect"
families  in
gingerbread house making contests, I practically have to shoot crack(is
that how people use crack these days??) to decorate my not-really-too-
decorated house and I can't pour eggnog without thinking of phlegm and
mucous- plugged snails.
So yeah…not really a fan of the holidays.
(…if you're wondering if this is real, I say yes; real disgusting.)
This year, of course, Caeley and I were not under "normal, sane
circumstances".
Until April 19th, 2016, every special moment, every
holiday will follow this standard sentence form,
"The first_____________without Jamey".
Each special day will represent a bittersweet form of Clan Cranstoun Madlibs
(or should I say Sadlibs)?
To be honest, though, it wasn't just the "holiday season" that I found
particularly challenging.
In fact, Cael and I faced about a 6 week span of
"The first fill-in-the-blank-without Jamey"s.
Here's a rundown:
October 19, 2015–6 month anniversary of his death
October 23, 2015–My first birthday without Jamey
October 24, 2015–Caeley's first birthday without Jamey
October 26, 2015–First wedding anniversary without Jamey
November 12, 2015–Jamey's frist birthday without Jamey(that's a really awkward sentence)
November 26, 2015–First Thanksgiving without Jamey
December 24, 2015–First Christmas Eve without Jamey
December 25, 2015–First Christmas without Jamey
December 31, 2015–First New Year's Eve without Jamey
January 1, 2016–I honestly don't consider this a holiday even though I think it's a Holy day of Obligation
Now here's the thing, though.
Sifting through each of those days that I'd
convinced myself were going to be emotionally brutal, I can't find one that
actually was.
What really got to me was the unintentional, unanticipated moments: like unwrapping this…(no–not the fact it was made in China)
and this…..
and this….. (Seriously–who let this kid leave the house looking like this–that hair tho?!)
What really got me was driving to Rizzo's Christmas Tree Farm(and sweating our bums off–thanks crazy NJ December weather) and attempting to figure out what size tree would:
a. Fit in the Jeep
b. Fit in the front door
c. Fit in the house without having to have me cut it with some sort of butter knife or whatever tools used to cut trees.
d. For the love of God, pine tree needles hurt like hell!
What really got me was the soul-crushing responsibility I felt to make this
holiday season normal.  Problem with normal is that it really doesn't exist
anymore.  I was faced with making our "new" normal seem normal. And I
was faced with doing that solo–without the help of Saint (and Santa)
Jamey.
Now, don't get me wrong. I don't believe the College of Cardinals or Pope Frankie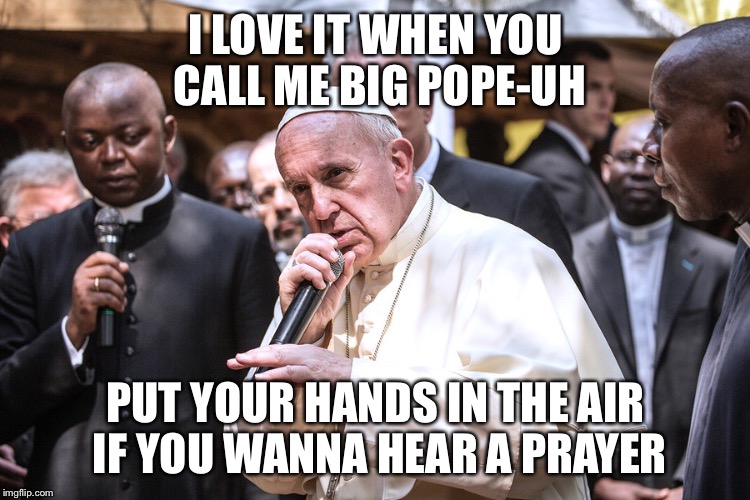 has placed Juke on the fast-track to sainthood.
And I am not delusional; I have not raised Jamey to the level of dearly-departed,
original sin-less Deity. He was far from that.
In fact, one time he cursed at me. Yup!
He called me a "dum dum".
So yeah,  hardly the picture of purity and perfection.
But man, did he do normal  well!
The guy could grill two car garages on the BBQ, fry 'em up with a side of white picket fences and slap it all together with a freshly cut lawn.
He put the "I" in suburbia, family and holidays.
In fact, after his mom died when he was a teen, it was Jamey who still tried to carry on
his family's holiday traditions of decorating, getting a tree, etc.
I mean seriously, what 16 year old boy thinks–or cares–about things like that?!?
I didn't at 16. And I kind of still don't–at 43.
Therein lied my problems for this year.
I had to fill the cavernous boots of a man for whom the holidays were an attempt to
recreate a  portrait of a hazy, re-imagined innocent and magical childhood.
I couldn't do it.
More aptly, I wouldn't do it.
It's not me.
I tried my best, for Caeley's sake. I really did.
We did the tree and I did some decorations and we had a version of a "Cranstoun Christmas" morning.
But in the end, I settled on a diversionary tactic.
I booked a trip on Christmas.
Caeley and I flew out of Philly at 9:30 AM Christmas morning
We flew into Dayton and spent Christmas with Jamey's big brother Mark, sister-in-law Kelly, nephews Kevin and Colin and their pups and kitties.
And we had a nice, normal Cranstoun Christmas.
In Ohio.